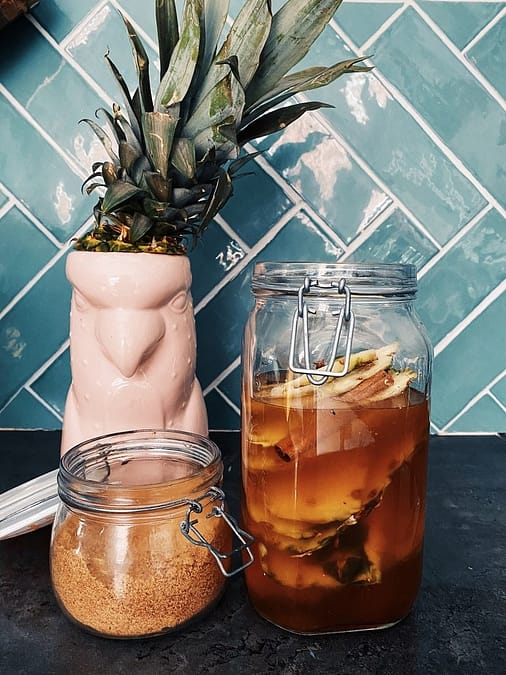 Ever heard of Tepache? A nice refreshing fermented drink from Mexico made from the skin of pineapple. A perfect recipe to use food scraps (well, normally you don't do anything with the skin of a pineapple). It takes a while for the tepache to be ready. You have to wait at least 36 hours for it to ferment and be ready to drink. But patience pays off!
Material
A sterilized preserving jar (how to do this you can read here)

Ingredients for the Tepache
The skin of a pineapple (washed very well!)
2 cinnamon sticks
a few cloves
1/2 cup / 100 grams of organic sugar, originally it is prepared with Mexican piloncillo. We used coconut blossom sugar.
1.5 litres of water
HOW-TO: Tepache Recipe
Start washing the pineapple.
Then you cut the skin off the pineapple. You don't use the "edible" part of the pineapple for this recipe. So you can enjoy this nicely.
Take the sterilized mason jar and add the sugar and 1.5 litres of water.
Stir this well so that the sugar dissolves as much as possible.
This is followed by adding the cinnamon and cloves as well as the pineapple.
Stir well again. Check if the pineapple is properly submerged otherwise you can add extra water.
Grab a cheesecloth or very thin tea towel and place it on top. Secure it with a rubber band. You can also choose to put the lid on but the drink must be able to breathe to ferment, do not close the lid completely – more chance of fruit flies (I'm talking from experience;))
And now we wait!

Leave it in a dry place for a day (not in the fridge)
After 24 hours, remove the white foam from the drink with a spatula. It is really fermenting now.
Let it ferment for another 12-24 hours (it can be longer, but if you leave it too long you will get vinegar).
Have a taste
And tada!
Serve in a glass with plenty of ice. You may want to add a little more water or sugar to your liking.


Let me know what you thought of the tepache recipe in the comments. I am so curious.
Related posts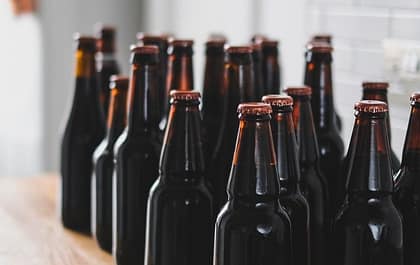 Huh isn't that vegan? Sneaky non-vegan products.
To figure out whether a product is vegan sounds pretty straightforward: just check the label to see if it contains egg, shellfish, beeswax, gelatin or milk and you will know whether a product is vegan or not. Unfortunately, in reality, it is not always that easy. There…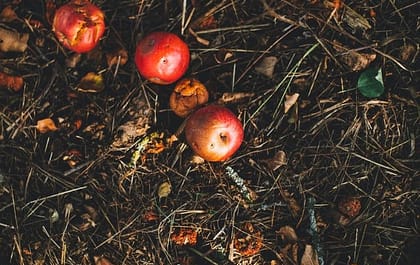 What to do with your restaurant's food scraps and waste
No restaurant is ever able to ditch all food waste entirely. Well, this is not true, as there is this inspiring restaurant SILO in London, which is the world's first zero-waste restaurant. This is next-level awesome. However, for the regular cafés and restaurants between us,…