Well, you will have to be a little creative, but a restaurant chalkboard can do amazing things for your business. A few years ago, when I was working in a Mexican restaurant. Every Monday our chef created a special Menu of the week, with a special price, which would attract guests to come to enjoy. I then wrote it down on a chalkboard outside so everyone could see. To be honest, I SUCKED BIG TIME. My fine motor skills are the worst. It took a little while, and after some practice, I improved a lot. Still not as good as some of my friends but, ok, you cannot have everything right! However, to get some inspiration, I always browsed Pinterest. There are so many creative entrepreneurs and hospo (cool slang for hospitality) people who make the most beautiful designs. I could never top those, but ok as long as it looked neat and creative and it lured people in, my boss was happy!
However…
… if you fail to make a restaurant chalkboard look nice, rather than attracting guests to your business, you actually send them away. I have a fascination for ugly chalkboards. Seriously, I do. One's where the letters are not straight, all different in size (when people start writing and then halfway figure out there is not enough space so they have to smaller the letters instead of starting over). Or how about drawings in which you have no clue what you are actually looking at and so much more… It is not hard for me to continue about this for hours – I have a full collection of ugly chalkboard designs on my laptop. But, since spoon&stir is all about encouragement, I won't post these photos (ok maybe someday, not yet now).
What I am trying to say, if you do not put the effort in designing your chalkboard, you are actually depicting that you do not really care about how your business looks. So what would people think about your service and the food then?
Just to conclude, it doesn't have to cost much…
Buy a chalkboard for your restaurant – buy some white or colourful chalkboard markers and that's it. Decide on what you would like to show to the outside world. Maybe it is just something fun like a quote or perhaps a special offer? Surf to Pinterest, get some inspiration and there you go (I have made a beautiful collection of cool chalkboard art designs). Get your most creative colleague and ask him/her to design a pretty chalkboard. You could also decide to ask a creative local to design something for you. And please, be original with what you create. (No one is laughing anymore about the signs: "soup of the day – beer" or "annoying husband? we have a husband daycare all it costs is beer").
Oh, and if you live in a country where it rains a lot, please make sure you place your chalkboard under an overhang, so the water doesn't ruin your design. There is nothing worse than being super proud of your creation and seeing it being f*cked up the next rainfall…. 😉
Related posts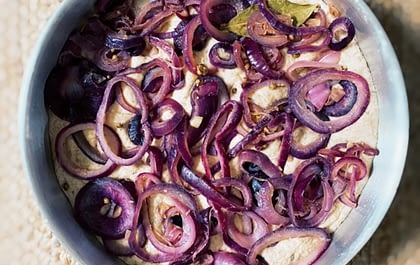 Beer Focaccia with caramelised onions. Use your left-over beer to bake bread.
If you have left over pilsener, pale ale or any other beer. How about baking a delicious beer focaccia with onions. So good!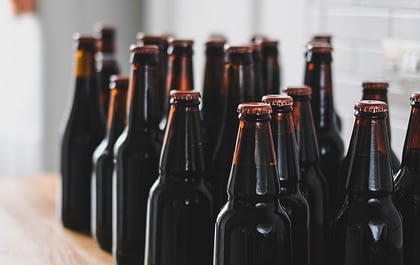 Huh isn't that vegan? Sneaky non-vegan products.
To figure out whether a product is vegan sounds pretty straightforward: just check the label to see if it contains egg, shellfish, beeswax, gelatin or milk and you will know whether a product is vegan or not. Unfortunately, in reality, it is not always that easy. There…