The other day, I was leisurely chilling and scrolling through Instagram and came across Max La Manna's recipe. Max is a pretty cool guy who aims to cook zero waste. If you do not know him, go follow him online.

While I was sipping my coffee, I watched an IG reel in which he was using coffee grounds to pimp up pancakes.
Every day I am saving up the coffee grounds of my percolator as a fertiliser for my plants. However, I drink more coffee than my plants need to be fertilised. So why not trying to do something with this?
Is eating Coffee Grounds safe?

It wasn't that I didn't trust Max, but I really had to know whether eating coffee grounds is a safe thing to do. So I researched a bit and learnt it is entirely safe to do. Additionally, I discovered that coffee ground is often used to tenderise meat. Well, I do not eat meat, so I don't need to use it for that. (Plus, I don't think coffee will tenderise tofu, but maybe I can experiment with that some other time.)
Coffee Cinnamon Rolls
But I do like something sweet every now and then. That moment, I had been longing for a fluffy good cinnamon roll for days. How about experimenting and adding coffee grounds to a cinnamon roll?
So I made myself another deliciously strong cup of coffee; I saved the coffee grounds and started baking.
If you like trying some zero food waste recipes, try baking coffee cinnamon rolls!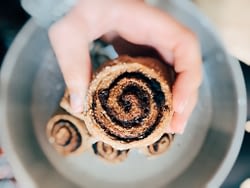 Coffee Ground Infused Cinnamon Buns
Eating coffee ground might sound weird, but it actually is edible and can be used to season dishes. Coffee ground can be a great addition to spice up sauces, give a kick to desserts or is also used to tenderise meat. You often see recipes with coffee use instant coffee, but next time, think about just using your left over coffee ground to give your dish a bit of a coffee kick. In this recipe, we gave cinnamon buns a coffee kick!
Resting time
1
hr
30
mins
Course
Breakfast, Dessert, Side Dish, Snack, zero waste
Equipment
oven

baking tin

mixing bowl

pan

damp kitchen cloth

rolling pin (or empty wine bottle without label, like I use)
Ingredients
Dry ingredients
375

gr

flour

I used 2/3rd wholemeal and 1/3rd all purpose flour, but feel free to choose what you like

1

tbsp

sugar

pinch

salt

1

tsp

vanilla

essence if you prefer

1

tbsp

coffee ground

5

gram

dry yeast
Wet ingredients
3

tbsp

neutral oil

or melted butter

250

ml

plant milk

37-42 degrees celsius (will be explained below)
Filling
4

tbsp

sugar

1

tbsp

cinnamon

2

tbsp

coffee ground

4

tbsp

neutral oil

or butter

2

tbsp

finely chopped nuts

optional
Instructions
The dough
Grab a mixing bowl and mix all the dry ingredients

In a pan, warm the oil and milk to a temperature of between 37-43 degrees.

When at the right temperature, add the yeast and let it stand for 5 minutes to activate (when it bubbles)

Little by little add the wet ingredients to the dry and mix well until it forms a dough ball. If it is to wet, add a little flour, if to dry add a little more milk.

When you have shaped the dough into a beautiful ball, cover it with a damp kitchen cloth and let it stand for approximately 1 hour on a warm place (room temperature)
Filling and shaping the cinnamon coffee buns
Mix the ingredients for the filling well. If you use butter, melt the butter first.

Sprinkle some flour on a clean kitchen top (so the dough doesn't stick)

Place the dough ball on the kitchen counter and with your rolling pin roll it into a rectangular shape which is approximately 0.5 cm thick

Cover the dough with the filling evenly and oll up the dough tightly (roll from the length side)

Brush your baking tin with some oil or butter

Cut the long shape of dough you have in buns of approximately 7-10 cm each and place them close to each other in the baking tin

Cover the buns with a damp cloth and let it rest for another 30 minutes
Baking the coffee cinnamon buns
Preheat the oven to 180 degrees. Bake the cinnamon buns for 20-30 minutes until they look beautifully golden. Enjoy!
Optional topping
1. If you like it sweet, you can sprinkle some more sugar on top of the buns a few minutes before they leave the oven to caramelise.

2. Mix plant cream cheese with sugar and vanilla to taste and smear on top after they come out of the oven

3. Mix 5 tbsp powered sugar with 1 tbsp of plant milk and 1 tsp of lime juice.
Keyword
food waste recipe, sweets, Zero waste
Have you every tried making anything with left over coffee grounds? Please let me now in the comments. I am very curious to know more and get more inspiration for future recipes!
And did you try this recipe, let me know what you thought of it! I am super curious!
Related posts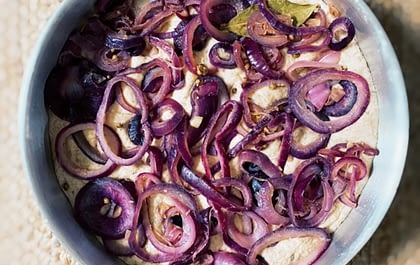 Beer Focaccia with caramelised onions. Use your left-over beer to bake bread.
If you have left over pilsener, pale ale or any other beer. How about baking a delicious beer focaccia with onions. So good!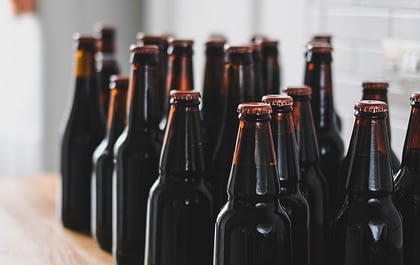 Huh isn't that vegan? Sneaky non-vegan products.
To figure out whether a product is vegan sounds pretty straightforward: just check the label to see if it contains egg, shellfish, beeswax, gelatin or milk and you will know whether a product is vegan or not. Unfortunately, in reality, it is not always that easy. There…