What do you think of using leftover beer for baking deliciously good beer focaccia with caramelised onions?
The other day I purchased a large bottle of beer at a supermarket here in Lisbon. I didn't know they existed, you know, these large 1l bottles, but here they do. Pretty sustainable was my line of thought. Instead of purchasing four glass bottles, I just buy one large one. Funnily enough, I couldn't finish the beer and put it back in the fridge.
On Monday morning, I was like, hey, I still have some beer left, right? (Please tell me it's perfectly normal to think about this on a Monday morning, right 😉 ). So I thought, what can I make with this beer? Definitely not going to drink it in any coming days, and everyone knows that flat beer tastes horrible.
Pimping up regular beer bread
So I thought back to the beer bread I had tasted in some German-style restaurants. So good. But how about pimping it up and making it a bit more exciting? How about trying to make focaccia with it? And then making it more exciting by adding some onions.
It turned out so well; I even dare say that it might have been the best bread I have ever baked. You can taste a little bit of the beer's bitterness, and it goes very well with the sweetness of the caramelised onions.
So next time you have some leftover beer, just try baking this beer focaccia with caramelised onions. I promise you, you will not be disappointed at all!
One note before baking, I used a pilsener, but I am sure you can use any type of beer, and it might taste even better when you use pale ale or a wheat beer.
The Recipe for Beer Focaccia With Caramelised Onions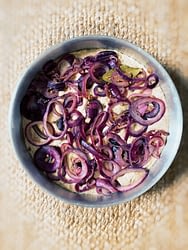 Beer Focaccia with Caramelised Onions
Next time you have left over beer, don't pour it down the drain but safe it to make a delicious beer focaccia! You will not be disappointed.
Course
Breakfast, Side Dish, Snack
Ingredients
Beer Focaccia Dough
500

gram

flour

(wheat or wholemeal, I used 75% wheat, 25% wholemeal)

1

tbsp

sugar

2

tsp

salt

300

ml

beer

any type will do (pale ale, pilsener)

50

ml

olive oil

7

gram

yeast

(a packet, check the label for the ratio of yeast to flour)

1/2

tsp

thyme
Caramelised Onions
2

onions

sliced in rings

1/4

tsp

coriander seed

1

tbsp

sugar

1/4

tsp

salt

1/4

tsp

thyme

2

tbsp

olive oil
Instructions
Dough
Ensure the beer is approximately 45 degrees Celsius.

In a bowl, add all the dry ingredients, mix, and add little by little the beer and olive oil. Mix with your hands until it shapes to a ball. Adjust if necessary, add more beer or flour if needed.

Cover the dough with a moist cloth and let it rise for 1 hour.

After an hour, oil a baking tin (round or square) and stretch out the dough in the tin. Cover again with a moist cloth and let it rise for another 45 minutes.
Caramelised Onions
Heat some oil on low heat in a pan and add all ingredients. On a low flame, let it simmer until soft and caramelised.
Dough + Caramelised Onions
Heat the Oven to 220 degrees. Top the Focaccia with the onions and add it to the oven.

Bake it in approximately 20 minutes until golden. Stroke a little of olive oil on top. Let it cool down for a little while and enjoy!!!
Keyword
food waste recipe, Zero waste
Did you bake the recipe? What did you think of it? Please tell in the comments! Looking for other food waste recipes? Take a look here.
Beer Focaccia with caramelised onions. Use your left-over beer to bake bread.
Related posts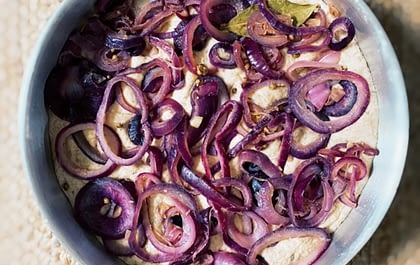 Beer Focaccia with caramelised onions. Use your left-over beer to bake bread.
If you have left over pilsener, pale ale or any other beer. How about baking a delicious beer focaccia with onions. So good!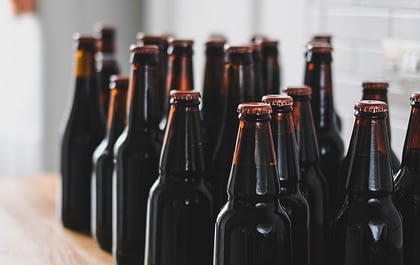 Huh isn't that vegan? Sneaky non-vegan products.
To figure out whether a product is vegan sounds pretty straightforward: just check the label to see if it contains egg, shellfish, beeswax, gelatin or milk and you will know whether a product is vegan or not. Unfortunately, in reality, it is not always that easy. There…