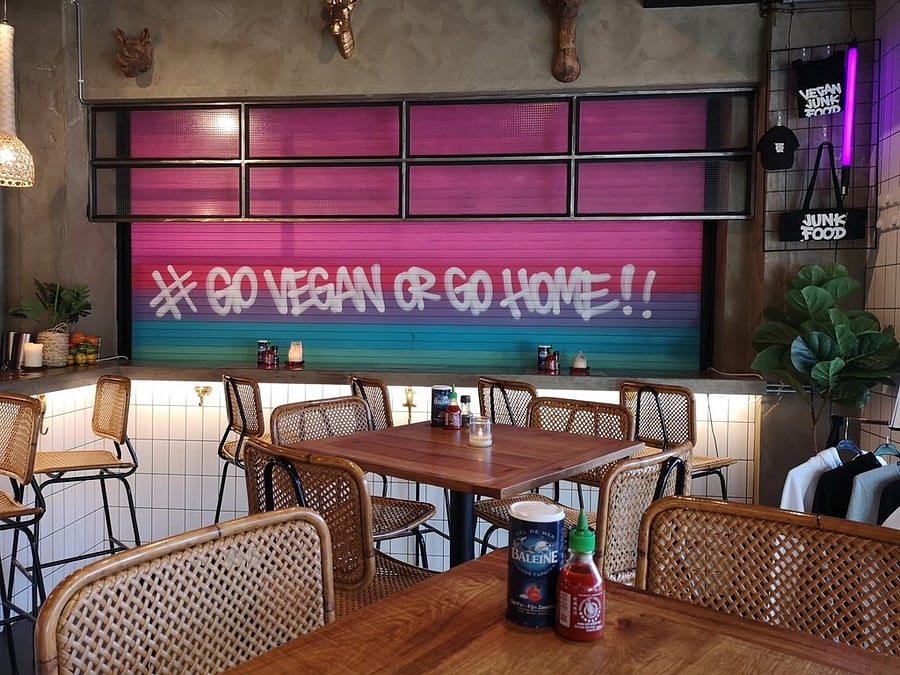 Veganism is hot. Vegans care about animals and care about the environment. More people nowadays are turning to a plant-based diet. The number of vegan meat replacements is growing at significant rates in supermarkets all over the world. Local restaurants and big chains (like dominos or subway) are adding vegan options to their menus. And if they do, well it means there really is a market for this right? In this article, I will explain how to create a vegan menu for your restaurant.
It is 2020, you cannot miss out and you will need to attract vegans to your restaurant. In this article, I will explain what a plant-based diet is. Moreover, I will tell you why you need to have at least one vegan option available. And what you definitely should think about when you design a vegan menu.
The top photo is taken in Vegan Junk Food Bar in Amsterdam.
What is a plant-based diet?
Someone who eats vegan can decide to do this for numerous reasons. It could be for the animals, to reduce one's carbon footprint or for health or religious reasons. When someone eats vegetarian, this person does not eat meat or fish. A vegan decides to eat no animals products at all. When someone says he/she eats plant-based, it means this person does not eat:
meat or fish
dairy products; milk, cheese, cream etcetera
eggs
honey
bee wax
gelatine
anything else I forget here but come from animals 😉
Surprisingly, there are a few products, most people do not even know that contain animal products like beer, wine and liquor. Read more about this in this article. Otherwise, ask Google or your supplier. I have to mention that not all vegans even know that some drinks contain animal products though. I met plenty of them over the years.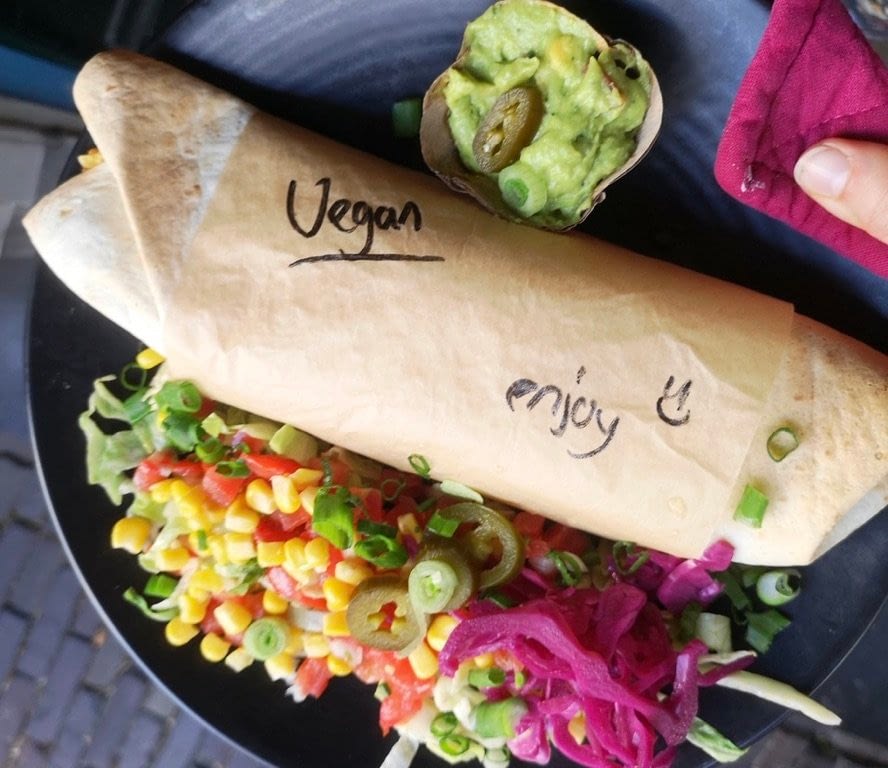 Why would you need to add vegan options to your menu?
When I became a vegan, a little over two years ago, I had to say goodbye to my favourite activity, going out to enjoy a meal in a restaurant. OK, maybe this statement is a bit too dramatic, but it was like this for a little. In my country, the Netherlands, and especially in my city, there weren't many restaurants which had vegan options on their menus. So most of the time, I would stay at home, cooked my own delicious meals and saved my money ;). But this is what most vegans do when there are no options. They stay at home.
Next to this, when there is a part of a minimum of two – the vegan decides where to eat. I don't mean this in a way that he/she chooses the exact restaurant, but he/she more decides where NOT to eat. If there is a group of six and one of them is vegan. They will never go to the restaurant where there are no vegan options on the menu. So you don't miss out on one guest – you miss out on a whole party. Therefore, add at least one vegan creation to your chef's recipes.
So what did I do when I turned vegan and learnt that there were no restaurants with options for me in the area? I decided that the restaurant where I was working for would be the one attracting all those vegans who did not have a place to eat. The chef and I experimented and learnt how to create a vegan menu. Our restaurant had a menu which was not hard to veganize (make a dish vegan). So we swapped cheese and dairy in dishes for plant-based alternatives and exchanged meat options for beans or jackfruit. I printed a separate menu for vegans, and tada, our plant-based menu was born. 
This is, of course, the simplified story of creating a vegan menu. In real life, it consists of researching, calculating food cost, seeing how else you could use the ingredients in other dishes etcetera.
A few facts about how to create a vegan menu for your business
No vegan likes a dish which consists SOLELY of vegetables. I once had a chef tell me "I will create something outstanding for you". I wasn't only a little disappointed when the server placed a plate with 500 gram of grilled vegetables in front of me.

Think for a bit about protein. With fish or meat dishes, it is easy where to get the protein from. Vegetarian meals often contain cheese as a protein. Make sure you add something to the plate. This could, for example, be legumes, a type of grain, tofu or another meat substitute. 

When you add a vegan dish to your menu, you automatically also satisfy your vegetarian guest. So don't think of it as being a sacrifice for only a small group of (potential) guests. Additionally, more meat-eaters are flexitarians nowadays and do enjoy a vegan dish too. 

Please make sure that you write somewhere on your menu or website that there are vegan options available. If you don't, vegans do not even consider coming to your place also though you have a creative chef who does not mind creating the most amazing plant-based meals. No vegan is going to call all restaurants and ask whether there are vegan options available. 

Educate your colleagues about veganism. It is not very guest friendly when someone has enjoyed a vegan dish and orders a cappuccino with oat milk to serve them a butter cookie with the coffee. Also don't think of it as not being guest friendly if you do not have a vegan alternative to provide with the coffee. Vegans find it worse when you serve it and then when they don't finish it you throw the cookie in the bin. Then it is again animal waste for nothing. 

So how to create a vegan menu? First of all – be creative! Don't do what other cafes and restaurants in your area are doing. The amount of vegan options has increased significantly since the day I turned vegan. It is a lot easier for me to enjoy a vegan meal in cafes and restaurants. However, Dutch chefs often think vegans really like hummus or vegan burgers. So obviously, when I see a cafe with original plant-based offerings, I know where to spend my money.

Change your vegan menu every now and then. Vegans do not have the luxury to try every restaurant in the city like meat-eaters. They often only have a small number of restaurants to choose from. For this reason, make sure that you keep them enticed by updating your offerings. Maybe a different vegan menu every month? Vegans are loyal, and if they like your food, they will definitely come back.
And well, how to attract those vegans?
Well, most vegans hang out together. So word of mouth is essential in this one. If a vegan enjoys your restaurant, you can be sure they will tell their vegan friends. Moreover, often there are local vegan Facebook pages where you could post that you have vegan offerings. Also, Instagram is a good source where a lot of vegans can be found. See whether there is a local vegan hashtag in your area like #veganinlisbon and make sure you post your vegan dishes there quite often. You can be sure vegans will see that.
Moreover, there is a website around the world, HappyCow where you could add your restaurant too and people can easily find you when they browse your city. And finally, a little promotion on the outside of your restaurant could help also. How about a chalkboard where you write down you have a vegan menu?
The success of a vegan menu
Of course, you are curious now whether this vegan menu helped our restaurant? Ab-so-fucking-lutely. We were well-known in the city and had a lot of repetitive guests. Our sales went up with 5% and noticed that a lot of non-vegans started to enjoy the vegan menu too. Unfortunately, the owner's decided they wanted to focus more on their businesses in larger cities and closed the restaurant. On our last evening, 25% of the tables were filled with vegans who wanted to enjoy our plant-based options for one last time. I was proud.
Tell me! Does your restaurant already have vegan options? Is there a point I missed in this article? Or do you have any other question about how to create a vegan menu? Please comment on this post or send me a message.
Related posts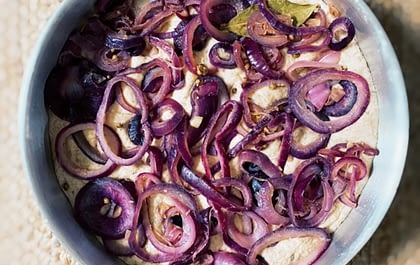 Beer Focaccia with caramelised onions. Use your left-over beer to bake bread.
If you have left over pilsener, pale ale or any other beer. How about baking a delicious beer focaccia with onions. So good!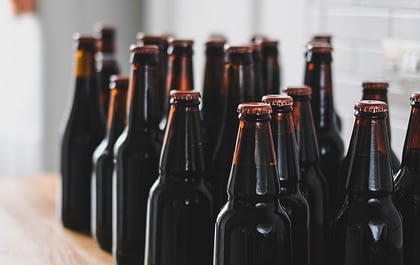 Huh isn't that vegan? Sneaky non-vegan products.
To figure out whether a product is vegan sounds pretty straightforward: just check the label to see if it contains egg, shellfish, beeswax, gelatin or milk and you will know whether a product is vegan or not. Unfortunately, in reality, it is not always that easy. There…